At The Heavenly Coffee Company, we offer anextensive range of carefully selected coffee.
Our coffee is specially selected from farms across the world, which means we offer you the widest possible choice to suit your customers' needs.
Our coffee collection includes beans, filter and cafetiere, amongst many others, in a range of sizes and formats.
We will not compromise on the quality of our coffee, ensuring it is roasted to the highest quality standards, with skill, care and expertise. We have many years of experience in carefully selecting the beans and ensuring they are roasted to perfection, providing your customers with the best possible flavour.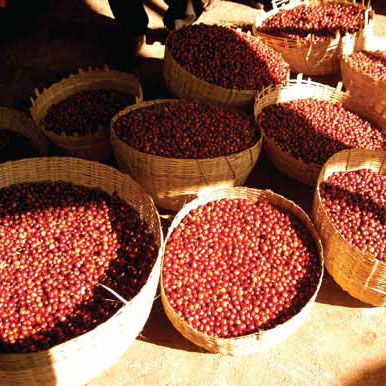 Roasted & Crafted with Care
Sourcing the coffee beans is the first step in delivering a great coffee to your customers. Our beans are hand picked from the finest plantations around the world. The difference in growing conditions, weather and even the soil influences the flavour of the bean.
When developing a blend there are many considerations, such as the purpose of the blend, the type of brewing method and of course the desired flavour. We have many Heavenly Blends for you to choose from, all carefully designed and roasted with a specific flavour in mind.
In a marriage of science and sensibility, we love to hand-roast on our traditional drum machine and indulge the senses when roasting small batches. By using our sensory skills to monitor the coffee's physical characteristics, the colour and aroma, we can create wonderful artisan options.
We are equally proud of our capacity to roast on a larger scale using new convectional air roast technology. This approach enables optimum standards in consistency and roast profile and secures service and availability. Care of the environment is always a central consideration and so it is important to note how our larger roaster is fitted with a catalytic converter ensuring some of the most energy efficient and CO2 responsible roasting in the business.
Striking a balance between craft, quality and usability, we lovingly package our coffee in attractive, low carbon footprint, recyclable materials. In doing so, we protect our cherished coffee, whilst promoting its freshness and flavour, ensuring it arrives with you in perfect condition.